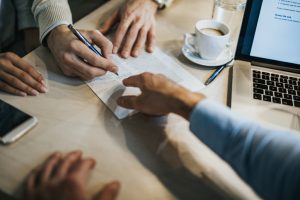 Many people consider securing a mortgage to be the most daunting part of buying a home. And for good reason. The home buying process can be complicated on its own, but the intricacies of mortgages can be quite confusing, especially if you're a first-time homebuyer.
Fortunately, you can take some steps to help make the financing process go more smoothly, and one of these is getting mortgage pre-approval.
What is mortgage pre-approval?
In acquiring mortgage pre-approval, banks and lenders will look into your finances to see if you meet the qualifications they have established for a good borrower. These institutions will closely scrutinize your financial records, including:
Bank statements

Tax information dating back a number of years

Employment history

Current income

Credit history/rating
Once they've completed the review, the lender will provide you with a pre-approval letter that indicates the maximum amount you're conditionally approved to borrow, as well as the terms for the loan.
The process for pre-approval can take anywhere from a few days to several weeks, depending on the completeness of your documents and the mortgage amount you're applying for.
It's important to note, however, that mortgage pre-approval is not binding. The actual mortgage amount and terms the lender may eventually approve could be different from what you were pre-approved for. However, pre-approval means the lender has reviewed your finances and found them to be in order – something that you'll find highly useful in your home buying journey.
Why should I get mortgage pre-approval?
If mortgage pre-approval is not binding, why it is so important? There are several reasons for this.
The pre-approval process gives you a chance to study your finances closely
Often, the first step in pre-approval is pre-qualifying. The lender will look at your financial documents and give you an estimate on how much you can borrow. In reviewing your records, the lender can advise you on how you can improve your financial standing so you can qualify for your desired price range.
Pre-approval helps you in setting a budget
The mortgage you're pre-approved for will likely match your final mortgage. This means that in looking for a home to buy, you can limit your search to properties within the price range of your pre-approved mortgage. This is not only safer financially, it can also cut the time you spend in home shopping.
It gives you an edge over the competition
Many sellers will only show their homes to buyers with pre-approval. And when it comes to accepting an offer, sellers will find your pre-approval letter to be an assurance that your finances are in order.
In some cases, lenders may agree to underwrite your mortgage at the pre-approval stage. Pre-underwriting is a step up from pre-approval as the lender guarantees to finance your purchase up to a certain price. It comes with a firm commitment letter that can prove to be your strongest asset over other homebuyers. Because the process of finalizing a mortgage can take a long time, pre-underwriting helps to cut some corners and guarantee a faster closing.
For more guidance and information about getting mortgage pre-approval, get in touch with Kerrigan Country Realty at 631.288.9600 or broker@kerriganrealty.com