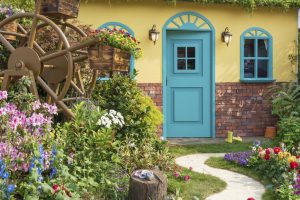 Nothing makes a stronger first impression to any passerby than curbs – your home's curb, that is. It's the first thing home buyers see of your home and strong curb appeal is what interests them enough to see what's inside.
There are many things you can do to make your front yard more appealing, from simple weekend projects to mini-makeovers. We recommend the following:
Front door makeover
You'll be welcoming potential buyers at your front door, so why not spruce it up and make a good first impression? If your door is still fairly new, you can simply clean or give it a fresh coat of paint. You can also replace it with something more contemporary, such as metal doors to upgrade your curb appeal. A word of caution, though: make sure that the paint color or replacement door you choose complements your house.
Liven up those walls
A relatively quick and inexpensive way to make your home look like new is to repaint your exterior walls. The ideal color is one that makes your home pop without making it stand out like a sore thumb. Before applying paint, strip the old paint job first and clean the surface thoroughly.
Light up your yard
You spend a lot of time making your lawn look picture perfect, so why should your hard work be visible only during the daytime? Luckily, you can install low-voltage landscape lighting like mini-lamp posts or fairy lights to illuminate your front yard in the evenings. For an eco-friendly alternative, you can opt for solar-powered lamps. The lighting can also deter burglars, so it is both an aesthetic and functional upgrade.
Plant power!
Ornamental plants and flowers brighten up your curb and make it more appealing. But what if you don't have a big yard to plant in? Don't fret — container gardening is a viable option. This can take a variety of forms, from potted plants to vertical gardens or even just a window box planted with flowers. Through container gardening, you can create an instant garden even with limited space.
Add a water feature
A fountain adds some old-school charm and visual interest to your yard. They don't have to be grand either, even a small one can make quite an impact. What's more, the gentle rustling of the water can be very calming indeed. When installing water features, ensure that they are on level ground and at an ideal vantage point for maximum effect.
Put in a porch
Aside from improving curb appeal, a porch can also increase your home's living space. For instance, you can turn it into a breakfast nook or a reading corner. As porch furniture gets exposed to the elements, go for weather-resistant ones like those made of teakwood or cypress wood.
Improving your home's curb appeal doesn't have to be expensive or time-consuming. Even little tweaks can definitely go a long way. Furthermore, the better your curb appeal the easier it will be to attract buyers should you decide to sell.
If you need help staging your home for a sale, let us help you. We are Kerrigan County Realty, your best real estate partners for the areas of the Hamptons, North Fork, and the East End of Long Island. Feel free to reach us at 631.288.9600 or broker@kerriganrealty.com.