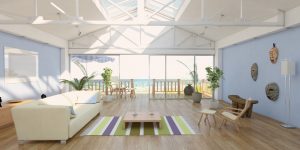 While the main highlights of most beach homes are the breathtaking ocean views, relaxing scenery, and tranquil environment, sprucing up its living spaces is definitely a great way to add to its character.
Here are few great renovation ideas that can turn any beach home into an oceanside paradise:
1. Create a bright and airy porch
Make your porch the best place to relax in the summertime. Enhance its look by adding summer-inspired décor like baskets and wicker furniture in natural hues and light shades. Remember to add a colorful rug, which helps disguise any sand you or your guests might bring with you after a day at the beach.
2. Look for water-friendly materials
Use furniture made of water-friendly materials like bamboo, rattan, and wicker. Not only do these materials withstand wet swimwear and humidity, but they also give any seaside home that relaxing beach cottage feel.
3. Use white paint and shiplap paneling for your kitchen
Using white paint is a great way to create that beach home vibe, but all-white rooms tend to feel a little too stiff and formal. To keep an all-white kitchen from feeling sterile, consider renovating it with shiplap plank walls to reinforce its "lived-in" feel. To create a warmer look, add in a variety of honey-hued wood accents.
4. Create a sunny, light-filled breakfast nook
Inject pep into your morning routine by creating a cozy look for your home's breakfast nook. Accessories like deliberately mismatched chairs, braided rag rugs, and wooden crates with flowers placed in glass bottles combined with earthy, natural tones can create a more relaxing vibe for any breakfast nook, providing the perfect start to your day.
5. Picnic baskets as storage solutions
Picnic baskets evoke a warm summertime feel, and can be the perfect under-bed storage solution to any beachside cottage. You can also use them to store kitchen utensils, games for your living room, or simply as accents to any space to create a natural, laidback look.
6. Use copper for exterior fixtures
Copper is an all-weather material, which makes it ideal for exterior design elements of beach homes. Look for roof flashing made with lead-coated copper, bronze hardware (which is essentially made of copper), and exterior light fixtures and weather vanes made from solid copper.
7. Use dark-sky lighting for exterior lights
Ask your local hardware or lighting retailer if they have dark-sky lighting. These exterior fixtures are effective in minimizing light pollution and upward glare, making stars more visible during the evening. Additionally, they help preserve natural nocturnal conditions for marine life such as sea turtle hatchlings, which are guided by light emitting from the horizon.
8. Turn your laundry room into a rinse room
Laundry rooms with outdoor access can make the perfect drop zone, preventing sand and salt water from entering the house. To make it even more effective, connect your laundry room to a bath with a sloped floor, waterproof baseboards, central drain, and open shower, and you get the perfect rinse area for your beach home.
Looking for the perfect beach home in the Hamptons, North Fork, and the East End of Long Island? Call Kerrigan Country Realty today at 631.288.9600, or send an email to dee@kerriganrealty.com