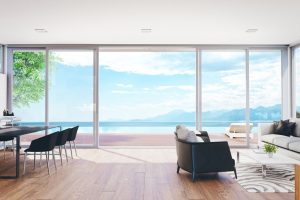 The Westhampton locale is a dream location for those who want daily doses of Vitamin Sea. That said, living so close to the sea also means your home is more exposed to the elements. That's why close and consistent maintenance is required to prevent any damage.
For owners of waterfront homes, we've created a handy checklist to make upkeep easier:
It's all about materials
The best way to guard against the elements is to use weather-resistant materials for your home. For instance, you can use fiberglass frames for your windows and reinforce your exterior walls with stainless steel siding. If you have a patio, make sure your furniture is made from water-resistant wood such as teakwood.
Clean, clean, clean
Regular upkeep is required to preserve your home's value, more so if it's a waterfront property. Pay special attention to indoor humidity and keep the space clear of clutter to prevent mold infestations. Pay close attention to your home's exteriors as well and wash your walls regularly to remove sand and corrosion buildup.
Conquer salt
The salt in the air can hasten the corrosion of metals in your home. The good news is that protecting against it is neither difficult nor expensive. Just purchase a can of WD-40 lubricant from the hardware store and apply it regularly to exposed metal surfaces. Of course, clean the surface thoroughly to remove salt buildup first.
Mind your roof
Living near the sea means your roof takes a lot of beating from the wind. Over time, the wind will tear shingles loose. Soon, these gaps will allow water to seep into your home. Conduct regular inspections of your roof and repair minor niggles before these become major issues.
Grading matters
Grading is all about your home's elevation so that water will move away from its foundation instead of accumulating around it. Nowhere is grading more important than in a beachside property. Be sure to have your grading checked yearly so you can employ corrective measures before any damage can occur.
Make your home secure
Maintenance isn't just about protecting against damage, it's also about protecting your belongings. This is especially true for waterfront properties as many of them serve as vacation homes. As such, these can be unoccupied for long stretches of time. Check that your locks are functioning properly and that the windows are made of reinforced glass. A home surveillance system is also a great deterrent against burglars.
Get the right insurance
A home in Westhampton is a significant investment and the right insurance can help protect it. Note that while you may already have standard home insurance, a beachside property needs additional coverage against floods and damage borne from natural disasters. While such riders will cost you extra, they are a pittance compared to the repair costs that such mishaps will incur. Furthermore, the peace of mind it affords is well worth the additional expense.
Want more home maintenance tips? Get in touch with Kerrigan County Realty at 631.288.9600 or e-mail broker@kerriganrealty.com. With decades of experience selling beachside properties, our team can connect you with home inspectors and contractors who can help you devise an effective maintenance plan.