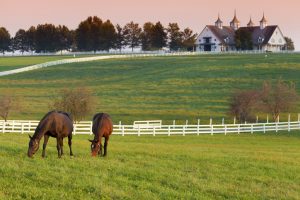 The Hamptons is a great place to raise horses but finding the property that matches your needs and preferences isn't always easy. In looking at equestrian properties for sale, it's best to ask yourself these five questions before making your final selection.
Is it accessible to emergency services?

As the old saying goes, "No one plans on having an accident." Even the most experienced hands know that some things can go wrong unexpectedly in an equestrian property, from the structures to the horses themselves. Access to help is the key to ensuring your and your equines' safety in case of fire, injury, or sudden sickness. Take a close look at the location – are there equestrian services nearby, such as a vet or facility experts? Can the property be easily accessed by emergency services? Is it HGV (heavy goods vehicle) friendly? These are important in ensuring you get the help you need in a timely manner.

Is the land horse-friendly?

If you're buying a property that wasn't previously used to raise horses, it's especially important to understand how the makeup of the land can impact the animals. Rocky terrains, as well as steep slopes and hills, can pose serious safety threats to horses and cause injuries, especially on their legs.

You'll also want to know what type of plants grow on the property. When eaten, some plants can be harmful to horses' health. Consult an expert if you need help in identifying toxic plants. It may be an added step, but it's necessary to ensure the safety of your horses.

How will the neighbors react to living next to a horse property?

Preexisting horse properties tend to be in a relatively secluded area for the privacy of the owner and the safety of the animals. If you're looking to start from scratch, however, look into the zoning regulations of the neighborhood you're interested in. For example, there could be a limit as to the type of structures you can build, or the number of horses you can own.

Be considerate of your new neighbors, as well. Make sure there are fences that can keep your horses within your property, or you have enough space for a sacrifice area. Plan on operating machines within standard working hours, and ensure you can keep your property well-maintained.

Are the fences in good shape?

Have a professional inspector go over the property to make sure there are no existing issues or potential problems down the road. Fences deserve close scrutiny because even one weak segment can result in your horses breaking out and running wild on someone else's property. More dangerous still are loose nails or cut wire that could severely injure your animals. Knowing where repairs are needed is the best way to avoid these problems.

Is the space big enough for your needs?

Thankfully, there's an abundance of options in the Hamptons for large properties that are good for raising horses. But what makes a suitable property depends on your preferences, too. From the number of horses you want to raise to the number and size of structures you plan to build, make sure you have a good understanding of how much space you actually need.
Finding the perfect property for your horses requires some careful consideration, but it's well worth it in the end. Get expert guidance from Kerrigan Country Realty. Call us at 631.288.9600 or broker@kerriganrealty.com.