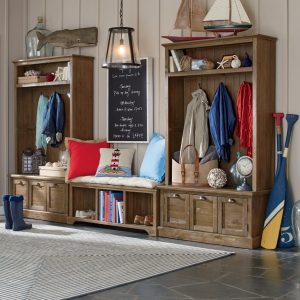 Often there isn't a typical "winter" mud room in a beach house. Well, let's face it you didn't buy the house to use in the winter. However, more and more people are turning their summer vacation-beach house into either a year-round residence or at least a year-round vacation home. Now you need somewhere for rainy and snowy boots, winter coats and hats and all the rest of it. Time to rethink the entryway.
Here are some suggestions we came up with: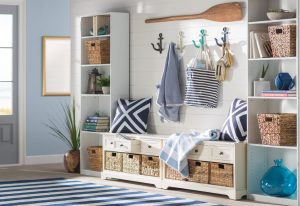 -Convert the hall closet to be more of a mudroom by adding a bench and a place for hats, gloves, and boots.
-If there isn't a hall closet, thin about a stretch of wall that can be enhanced with benches, shelves, and a hall tree.
-Use a covered front porch as an option by adding an outdoor storage bench and coat hooks to hang wet outer-wear.
-Add a rug. A rug that will take abuse and absorb water and dirt.
Consider a place for the pets too. Have all their outdoor needs at the ready also.
Photos are from Wayfair.com. You can purchase these items there and get other great ideas.