The Town of Southampton is now the 16th Certified Climate Smart Community in New York State. This designation recognizes Southampton for its actions to strengthen resiliency and reduce greenhouse gas emissions. The Town of Southampton consists of 18 hamlets and 7 incorporated villages. "New York continues to lead the nation in the effort to reduce greenhouse gas emissions, and as communities across the state step up to help achieve climate goals, we are laying the foundation for a stronger New York for generations to come," Governor Cuomo said. "I commend the town of Southampton for its ongoing efforts to support clean energy initiatives, and I encourage all of New York's municipalities to follow its example to help combat climate change."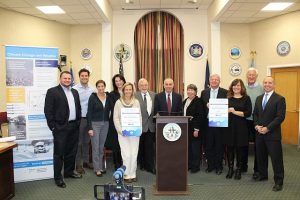 The town of Southampton has taken action to prevent further climate change by focusing on energy efficiency and clean, renewable energy sources. Southampton completed building energy audits for several town facilities and it supports programs like Long Island Green Homes where residents can get free home energy assessments. Southampton has also helped residents to shift toward clean modes of transportation by improving local infrastructure that facilitates bicycling and walking, such as upgrades to bike lanes and way-finding signage. In addition, the town reduced its carbon footprint by purchasing a three-kilowatt solar electric array that was installed on the Tiana Bayside Parks facility earlier this year.
Southampton has also implemented a series of land-use policies that protect wetlands, pine barrens, and the local aquifer. Protecting natural areas in this way supports water quality, ecosystem resilience and helps reduce the impacts of flooding and sea-level rise that the town faces as a result of climate change.
Southampton is home to the first East Coast municipal park to be a certified AGZA Green Zone where routine landscape maintenance is performed using emissions-free manual techniques and electric equipment that draws on New York's relatively clean power grid. For this unique initiative, the town earned innovation bonus points under the Climate Smart Communities Certification Program.
Click here for the full press release and additional information about Climate Smart Communities and the Certification Program.